The Belief of the Nagas and Its Sign Creation in Poo Phayanak Shrine at the 2nd Thai - Lao Friendship Bridge in Mukdahan Province
Chittima Phutthanathanapa, Faculty of Humanities and Social Sciences, Khon Kaen University, Khon Kaen, Thailand
Wanichcha Narongchai, Faculty of Humanities and Social Sciences, Khon Kaen University, Khon Kaen, Thailand, *Corresponding author, Email: wanicna@kku.ac.th
Rukchanok Chumnanmak, Center for Research on Plurality in the Mekong Region, Faculty of Humanities and Social Sciences, Khon Kaen University, Khon Kaen, Thailand
Abstract
This article aims to explain the creation of Naga signs in the Poo Phayanak shrine at the 2nd Thai-Lao Friendship Bridge in Muang District, Mukdahan Province. This qualitative research collected data using in-depth interviews with 17 informants: sign creators and people receiving benefits from the creation at Poo Phayanak shrine. The data collected was analyzed using content analysis. The results showed that the Naga signs are created for denotative meanings or the denotative signified. It is mutually understood that the Naga is a giant serpent with a crest on its head, believed to have supernatural powers to transform into any form. Naga signs are also created to give connotative meanings. For some groups of people, the Nagas represent (1) fear, (2) the protectors of the Mekong River, (3) success, and (4) fortunes. The meanings that are communicated in the area play a major role in increasing faith in the community and among tourists, contributing to a rising number of tourists coming to visit the shrine in Mukdahan Province.
Keywords: Naga, belief, Naga sign, Poo Phayanak shrine, 2nd Thai-Lao Friendship Bridge
References
Chang, Y. L. (2017). Exploring naga images: Textual analysis of Thailand's narratives. Journal of Mekong Societies, 13(1), 19-35.
Charoensinolarn, C. (2002). Semiology, structuralism, poststructuralism and the study of political science. Bangkok, Thailand: Wiphasa press.
Cohen, E. (2007). The "Postmodernization" of a mythical event: Naga Fireballs on the Mekong River. Journal of Tourism Culture & Communication, 7(3), 169-181.
Department of Business Development. (2018). Business information Mukdahan Special Economic Development Zone. Retrieved from https://www.dbd.go.th.
Hattapanom, S. (2015). An Analytacal Study of The Buddhists' Worship of Genesha in Thai Society (Master's thesis), Thammasat University, Bangkok, Thailand.
Hongsuwan, P. (2011). Sacralization of the Mekong river through folk narratives. MANUSYA: Journal of Humanities, 14(3), 33-45.
Kaewthep, K. (2004). Media Analysis: Concepts and Techniques. Bangkok, Thailand: Parbpim press.
Kaewthep, K., & Hinviman, S. (2010). Stream of theoretical thinkers Political Economy and Communication Studies. Bangkok, Thailand: Parbpim press.
Miles, M., & Huberman, A. (1994). Qualitative Data Analysis. (2nd). California, US: SAGE Publications.
Mukdahan Provincial Office. (2018). Fundamental Data of Mukdahan District and the Special Economic Development Zone. Retrieved from http://. http://www.mukdahan.go.th.
Puakkansi, S. (2017). Few People Know about the Truth of the 2nd Friendship Bridge: Life Sacrificed until They Make an Apology to the Naga. Retrieved from http:// www.tsood.com
Ratcharoenkachorn, S. (1995), The Worship Cult of King Rama 5 and the Belief System of Middle Class in Bangkok: A Case Study of The Equestrian Statue of King Chulalongkorn in Dusit District, Bangkok (Master's thesis), Silpakorn University, Bavgkok, Thailand.
Royal Thai Government Gazette. (2017). Announcement of the Tourism Development Committee of the Mekong River Lifestyle Tourism Development Area on the Action Plan for Tourism Development Within the Mekong Lifestyle Tourism Development Zone, 2017–2021. Royal Thai Government Gazette, 134(Special Section), 12-66.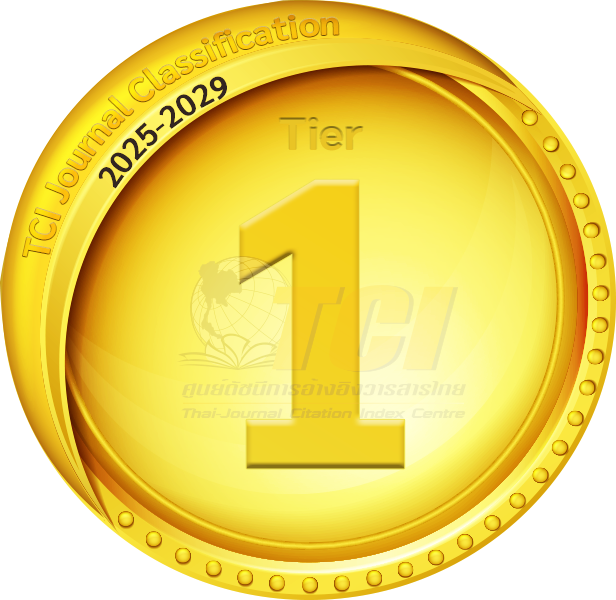 Approved By TCI (2021 - 2025)
Indexed in