Willingness to Pay for Road Safety Improvement of Foreign Visitors in Thailand
Chompoonuh Kosalakorn Permpoonwiwat, Faculty of Economics, Srinakharinwirot University, Bangkok, Thailand.
Uthai Krawglom, Faculty of Business Administration, Rajamangala University of Technology Rattanakosin, Nakhon Pathom, Thailand. , *Corresponding author, E-mail: uthai.kra@rmutr.ac.th
Abstract
The objective of this research was to estimate the willingness to pay for insurance fees of foreign tourists who visited Thailand for road safety and to reduce the risk of road accidents occurring among visitors. The survey of 405 foreign tourists was conducted by using Contingent Valuation (CV) to calculate the value of Willingness to Pay (WTP) for travel fees of foreign tourists visiting Thailand. The study showed that 65% of the foreign tourists travel to Thailand by themselves without a tour guide or with their families and relatives while the other 35% visited the country by hiring travel agencies. Most of the foreign tourists, approximately 90%, had bought travel insurance before coming to Thailand with concerns about road safety. The results revealed that 47% of foreign tourists agreed to pay an insurance fee. On the other hand, 53% of foreign tourists who did not want to pay the insurance fee believed that the Thai government is inefficient or incompetent in improving road safety. Moreover, they were more certain of their home country's travel insurance plan and coverage options. For the foreign tourists who were willing to pay an insurance fee for road safety development in Thailand, they thought of taking responsibility and being accountable to themselves. The willingness to pay value was estimated with the average amount of 331.28 Baht per person for 30 days. The range of 300-350 Baht, was accepted by involved government and private agencies to reduce the risk of Thailand road traffic accidents for foreign visitors.
Keywords: willingness to pay, Road Safety, Foreign Visitors
References
Ainy, E., Soori, H., Ganjali, M., Le, H., & Baghfalaki, T. (2014). Estimating Cost of Road Traffic Injuries in Iran Using Willingness to Pay (WTP) Method. Journal Pone, 9(12). 1-16.
Bureau of Standards and Supervision of Tourist Safety Office of the Permanent Secretary, Ministry of Tourism and Sports. (2019). Tourism Safety Measures Guide. Retrieved from https://secretary.mots.go.th/ewtadmin/ewt/tourist/download/article/article_201711281 44640.pdf.
Chantith, C., Permpoonwiwat, C. K., & Hamaide, B. (2021). Measure of productivity loss due to road traffic accidents in Thailand. IATSS Research, 45(1), 131-136.
Chung, J. Y., Kyle, G. T., Petrick, J. F., & Absher, J. D. (2011). Fairness of prices, user fee policy and willingness to pay among visitors to a national forest. Tourism Management, 32(5), 1038-1046.
Division of Tourism and Sports Economy Office of the Permanent Secretary, Ministry of Tourism and Sports. (2019). Thailand tourism statistics system. Retrieved from https://www.mots.go.th/download/article/article_20191009135549.pdf.
Economics Tourism and Sports Division, Office of the Permanent Secretary of Ministry of Tourism and Sports. (2019). System of Thai Tourism Statistics. Retrieved from https://www.mots.go.th/ewt_dl_link.php?nid=11321.
Ei, M. E. (2017). Myanmar's traffic accident costing model (Doctoral thesis), School of Transportation Engineering Institute of Engineering Suranaree University of Technology, Nakhon Ratchasima.
Gorea, R. K. (2016). Financial impact of road traffic accidents on the society. International Journal of Ethics, Trauma & Victimology, 2(1), 6-9.
Haddak, M. M., Lefevre, M., & Havet, N. (2016). Willingness-to-pay for road safety improvement. Transport Res Part A: Policy and Practice, 87, 1-10.
Kamolcharuphisuth, K. (2011). The Willingness to pay to purchase a Personal Accident Insurance Addendum of Motorcycle riders in the Bangkok Metropolis (Master's thesis). Srinakharinwirot University, Bangkok.
Mon, E. E., Jomnonkwao, S., Khampirat, B., Satiennam, W., & Ratanavaraha, V. (2018). Willingness to pay for mortality risk reduction for traffic accidents in Myanmar. Accident Analysis & Prevention, 118, 18-28.
Ocharoen, N. (2017). Road accidents: serious damage to Thailand's economy. Retrieved from https://tdri.or.th/2017/08/econ_traffic_accidents/
Okoroji, L. l., Nwokedi, T. C., & Chinedum, O. (2014). An Analysis for Reduction in Economic loss from Damage Accident in Use of Transport Modes: A Comparative Study. Journal of Economics and Sustainable Development, 5(28),182-189.
Preedasak, P. (2013). Principles of Microeconomics (4th Ed). Bangkok, Thailand: Thammasat University Press.
Puttawong, C., & Chaturabong, P. (2020). Willingness-To-Pay for Estimation the Risk Pedestrian Group Accident Cost. Civil Engineering Journal, 6(6), 1064 – 1073.
Tuathep, P., & Tanaboriboon, Y. (2005). Determination of Economic Losses due to Road Crashes in Thailand. Journal of the Easten Asia Society for Transportation Studies, 6, 3413 – 3425.
Yamane, T. (1973). Statistics: An introductory statistics (2nd Ed). New York, US: Harper & Row.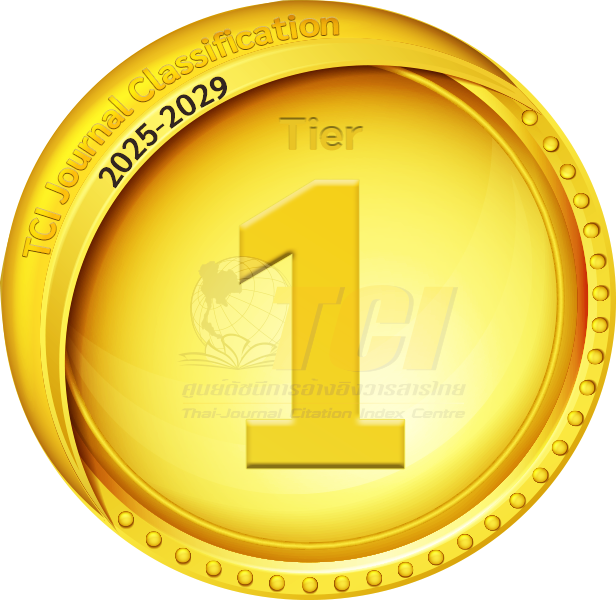 Approved By TCI (2021 - 2025)
Indexed in