Enhancing Emotional Strength of Professional Nurses: Buddhist Principles and Model
Sanu Mahatthanadull, Buddhist Studies (International Program), International Buddhist Studies College (IBSC), Mahachulalongkornrajavidyalaya University, Phra Nakhon Si Ayutthaya, Thailand, petchsanu@gmail.com
Orachorn Kraichak, Buddhist Studies Program, Graduate School Mahachulalongkornrajavidyalaya University, Phra Nakhon Si Ayutthaya, Thailand
Abstract
This article is part of mixed-method research that aims to examine the emotional strength of professional nurses, propose Buddhist principles and models for enhancing the emotional strength of professional nurses, and develop a Buddhist model for enhancing the emotional strength of professional nurses. The population Group No.1 was a control group consisting of 50 professional nurses from Samrong Medical Hospital and Samut Sakhon Hospital. While Group No.2 refers to an experimental group consisting of 18 professional nurses from Samut Sakhon Hospital who voluntarily enrolled in the classroom "Joyful Nursing Classroom" whereas the Buddhist principle of the 4 Bhāvanās was mainly applied in the classroom. The 6 professional nursing specialists, Buddhist experts, and social experts were also interviewed for content analysis. The results showed that emotional intelligence in Buddhism relies on the concepts and methods of balance, which include the Middle Path, Right Understanding (Sammādiṭṭhi), and Right Thought (Sammāsaṅkappa), to allow a person to be aware and understand his or her own emotions. For a nurse to perform at the professional standard level, emotional intelligence also requires mindfulness and awareness. A Buddhist model for strengthening the emotional intelligence of nursing professionals was developed from the concept of the Fourfold Development (bhāvanā) and applied in a workshop design. The model and the workshop format were evaluated by experts and then used with two nursing populations. The model demonstrated 4 ways to strengthen emotional intelligence among the nursing professionals: 1) self-reflection, 2) development of emotional strength and positive thinking, 3) increase of mental power through meditation, and 4) learning of "caring & sharing" concept and letting go, which was central to the model. The workshops resulted in a positive change in the mood and emotions of the nursing professionals, especially in terms of behaviors, communication, and reasoning.
Keywords: Emotional Intelligence, Buddhist Model, Nursing Professionals
References
Abhakaro (Op un), S., Sridee, N., Sangkhamanee, J., & Pholmuangdee, W. (2013). The Development of Management and Network of Buddhist Organizations in Thailand. Mahachulalongkornrajavidyalaya University, Thailand.
Cousineau, N., McDowell, I., Hotz, S., & Hébert, P. (2003). Measuring chronic patients' feelings of being a burden to their caregivers: development and preliminary validation of a scale. Medical care, 41(1), 110-118.
Hinuber, O. V., & Norman, K. R. (1994). Dhammapada. Bristol, UK: Pali Text Society.
Horner, I. B. (1971). The Book of The Discipline (Vinaya-Piaka). Bristol, UK: Pali Text Society.
Norman, H. C. (1906). The Commentary on the Dhammapada. Bristol, UK: Pali Text Society.
Norman, K. R. (1997). The Word of the Doctrine (Dhammapada). Bristol, UK: The Pali Text Society.
Pikó, B. (1999). Work-related stress among nurses: a challenge for health care institutions. The journal of the Royal Society for the Promotion of Health, 119(3), 156-162.
Rosenstein, A. H. (2008). Nurse-Physician Relationships: Impact on Nurse Satisfaction and Retention. Journal of Occupational Health Psychology, 13(2), 69-93.
Senadisai, S., & Arpanantikul, M. (2009). Nursing Practice Manual. Bangkok, Thailand: Jutthong Co., Ltd.
Suwansaeng, K. (2001). General Psychology (5th ed.). Bangkok, Thailand: Aksorn Pittaya.
Thai PBS World. (2016). Evening news at 7.00 p.m. Retrieved from https://www.thaipbsworld.com
Wanjan, S. (2013). Buddhist Philosophy. Phra Nakhon Si Ayutthaya, Thailand: Mahachulalongkornrajavidyalaya University.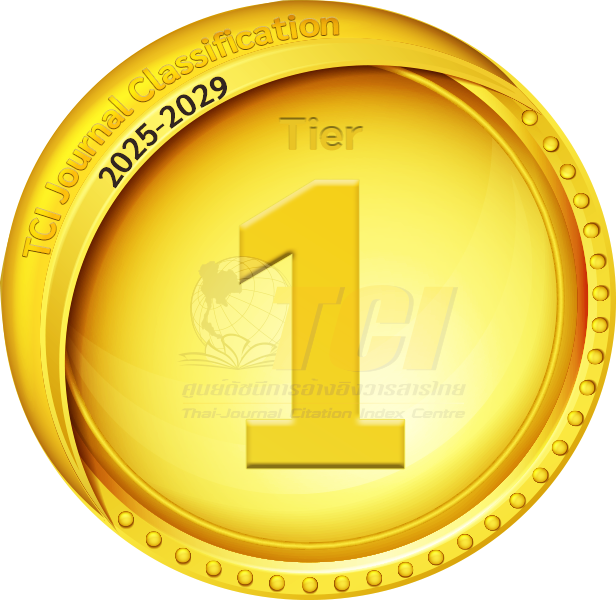 Approved By TCI (2021 - 2025)
Indexed in