The Application of Public Participation to create the Cultural Tourism Map
Supawadee Boonyachut, Architecture Program, School of Architecture and Design, King Mongkut's University of Technology Thonburi, Bangkok, Thailand
Terdpong Boonpan, UDDI - Urban Design and Development (International Program), Faculty of Architecture and Planning, Thammasat University, Rangsit Campus, Pathum Thani, Thailand, Corresponding author, E-mail: tp.boon@ap.tu.ac.th
Abstract
Trat's old town, located along Bang Phra Canal, has been the original town center since the reign of King Rama I to King Rama V. People in the community agree to preserve and restore many architectural heritages that have been found in this area. Other than that, there are many other interesting cultural and historical sites worth enough to visit in Trat's old town. However, there is no publicity in various forms, such as maps or brochures, to be used as a travel guide by tourists. Therefore, Trat's old town has been receiving lower attention from tourists than many other islands in the province. For this reason, this study aimed to first explore the identity of the town for a mascot's design to initiate the theme of the cultural tourism map for Trat's old town and secondly to design the cultural tourism map for old Trat's town, both through the public participation process. To collect data, a literature review and interviewing methods were used. The samplings included 12 focus groups, which comprised Thai and foreign tourists of different age ranges and genders. Finally, the finding shows that the best-representing mascot of the Trat's old town community is "the happy grandmother and grandfather." The design of the cultural tourism map thus consists of a cover that illustrates a picture of the happy grandmother and grandfather. The map is colored green, brown, and beige to create friendly hospitality along with the wood color of old buildings in Trat's old town and is in an "A3" size for ease of use and portability. The 5-fold leaflet was derived from the focus group interview of the sampling.
Keywords: Trat's Old Town, Trat identity, color scheme, Cultural Tourism Map, Community Participation
DOI: 10.14456/rjsh.2022.5
References
Corporate Finance Institute (CFI). (n.d.). What is a Focus Group?. Retrieved from https://corporatefinanceinstitute.com/resources/knowledge/other/focus-group/
Creighton, J. L. (2005). The public participation handbook: Making better decisions through citizen involvement. New Jersey, US: John Wiley & Sons.
Deakin, A. K. (1996). Landmarks as navigational aids on street maps. Cartography and Geographic Information Systems, 23(1), 21-36.
Gosha, G. (2012). How to Design an Effective Company Mascot. Retrieved form https://www.sitepoint.com/how-to-design-an-effective-company-mascot/
Grabler, F., Agrawala, M., Sumner, R. W., & Pauly, M. (2008). Automatic generation of tourist maps. ACM Transactions on Graphics (TOG), 27(3), 1-11.
Haeberle, S. H. (1987). Neighborhood identity and citizen participation. Administration & society, 19(2), 178-196.
IGI Global. (2008). What is Public Participation. Retrieved form https://www.igi-global.com/dictionary/visualisation-and-auralisation-for-perception-driven-decision-supports-in-planning/24070
Infinity Color Printing Co., Ltd. (2018). Size of paper. Retrieved from http://www.infinityprinting.co.th/main/content.php?page=sub&category=20&id=54 [in Thai]
International Association for Public Participation. (2007). IAP2 Core Values. Retrieved May 8, 2021 from https://www.iap2.org/page/corevalues
Koh Chang Island Guide. (2019). A Brief Guide to Trat town. Retrieved October 6, 2018 from https://kochangisland.com/2019/09/17/trat-town-guide/
Lynch, K. (1960). The Image of the City (11th ed.). Massachusetts, US: The MIT Press.
Maxine, A. (2018). 4 Reasons Why a Mascot Should Be Included in Your Marketing Strategy. Retrieved January 15, 2021 from https://www.bammascots.com/blog/a-mascot-should-be-included-in-your-marketing-strategy
Michon, P. E., & Denis, M. (2001). When and why are visual landmarks used in giving directions?. Proceedings of International conference on spatial information theory, 2205, 292-305. Berlin, Heidelberg, Germany. DOI: 10.1007/3-540-45424-1_20
Museum Thailand. (2020). The town of Trat museum. Retrieved October 6, 2018 from https://www.museumthailand.com/en/museum/The-town-of-Trat-museum [in Thai]
Naghdi, A. (n.d.). How to create a brand mascot; tips for success [proven and tested]. Retrieved April 20, 2021 from https://dreamfarmstudios.com/blog/how-to-create-brand-mascot/
Paiduaykan.com (2015). Klong Bang Phra Community: Chiang Khan of the Eastern Land. Retrieved January 30, 2021 from http://www.paiduaykan.com/travel/ชุมชนคลองบางพระ [in Thai]
Sorrows, M. E., & Hirtle, S. C. (1999). The nature of landmarks for real and electronic spaces. Proceedings of International conference on spatial information theory, 1661, 37-50. Berlin, Heidelberg, Germany. DOI: 10.1007/3-540-48384-5_3
The Fine Arts Department. (1999). Culture, Historical Development, Unique, and Wisdom of Trat Province. Bangkok, Thailand: Kurusapa Printing Ladphrao
The Trat Provincial Office. (2012). Trat Province. Retrieved March 6, 2021 from http://103.28.101.10/briefprovince/filedoc/23000000.pdf [in Thai]
Tourism Authority of Thailand. (2018). Trat. Retrieved January 5, 2021 from https://www.amazingthailandebook.com/files/book_191/763db97d4f6b5645f872dafdf281d1e91562750231437.pdf [in Thai]
United States Environmental Protection Agency (UEPA). (2017). Public Participation Guide: Introduction to Public Participation. Retrieved May 16, 2021 from https://www.epa.gov/international-cooperation/public-participation-guide-introduction-public-participation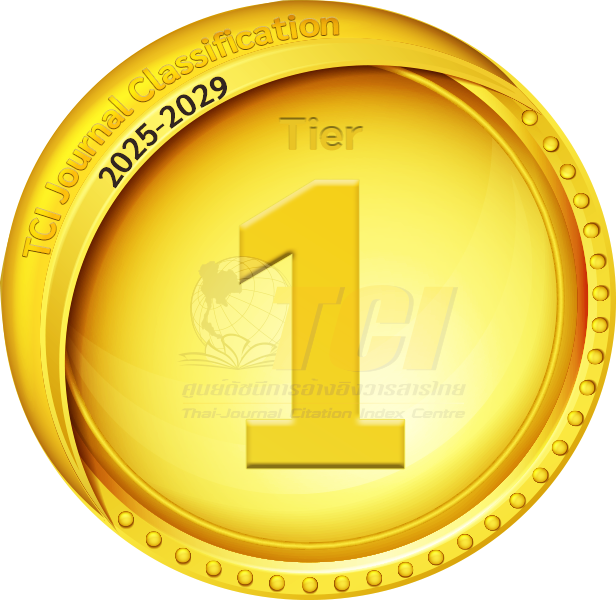 Approved By TCI (2021 - 2025)
Indexed in