ISSN 2286-976X (Print)
ISSN 2539-5513 (Online)
RJSH
RANGSIT JOURNAL OF SOCIAL SCIENCES AND HUMANITIES
https://rjsh.rsu.ac.th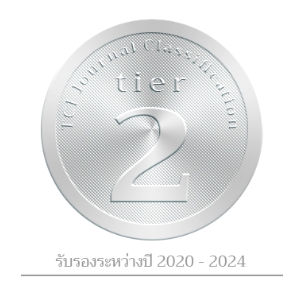 TCI Journal Classification Tier 2 (2020-2024)
The first Rangsit Journal of Social Sciences and Humanities (RJSH) in-print Issue (Volume 1 Number 1), ISSN 2286-976X, was launched in June 2014. The RJSH Website (ISSN 2539-5513) was developed and retrievable online in June 2019.
In launching the first Issue of RJSH, Dr. Arthit Ourairat, the President of Rangsit University wrote "...our world today needs a renewed 'Age of Enlightenment'. This is the RJSH's mission and identity: not to be just another 'publish-or-perish' publication for tenure-seeking scholars, but to help lead the rightful return of intellectualism to its respected place in society.".
The Editor-in-Chief of RJSH, Professor Anek Laothamatas, Ph.D., wrote in the Editor's Note of RJSH, Volume 1 Number 1, as follow: "RJSH welcomes all academics and practitioners in the social sciences and humanities throughout the world to extend the frontiers of knowledge and disseminate their research findings in our publication. Authors, reviewers and guest editors are always welcome, as are all comments and suggestions to improve the journal's quality. We hope you find RJSH informative and enlightening.".
Aims and Scope
Rangsit Journal of Social Sciences and Humanities (RJSH) aims to provide a high profile vehicle for publication of various new issues in different academic areas in Humanities and Social Sciences. RJSH invites scholars, researchers, professionals and academicians to publish their manuscripts in the journal.
Publication Areas
The scope of the Journal encompasses, the author(s) can submit their manuscript covering, but not limited to Interdisciplinary Studies in Humanities and Social Sciences, any of the following areas:
Social Science
Criminal Justice
Economics
Social Innovation
Political Science
Humanity
History
Language
Arts & Design
Research Articles: A research article is a regular quantitative or qualitative article which aims to present new findings or interpretations. Categories of Articles
The Journal accepts the following types of articles:
Notes or Address: A brief record of something or speech written down that presents important issues.
Review Articles: There are two types of review articles: non-systematic (or journalistic) reviews and systematic reviews. Non-systematic or journalistic reviews provide a summary of evidence derived from primary studies that have been selected and synthesized according to the author's personal and professional perspective. Non-systematic reviews can cover a wide range of subject matter at various levels of totality and comprehensiveness. Systematic reviews, on the other hand, provide summaries of related primary studies that have been searched for, evaluated, and selected and reported according to a rigorous methodology.
Innovations: An innovation is an article which aims to present creative arts and designs, procedures or devices.

Comments or Critiques:

A comment or critique is a short article that makes comments or replies to a comment on another article already published by this Journal.
Book Reviews: A book review is a short article that is written by a specialist and read by the general community. The aim of a book review is to give a brief summary of the book's strengths and weaknesses and to evaluate the book's overall usefulness to the audience it is intended for.
Submission Deadline
Submissions are to be permanently open. A manuscript submitted between July 1st and December 31st will be considered for publication in the January-June Issue of the subsequent year whereas a manuscript submitted between January 1st and June 30th will be considered for publication in the July-December Issue.